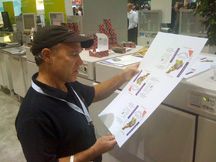 Wordsprint President, Bill Gilmer, attends Print '09 in Chicago
Print'09 is where industry leaders gather to learn about new advances in printing, network with industry experts, and make informed purchasing decisions about equipment and software packages. Each year, Bill Gilmer attends this print show in Chicago to ensure that Wordsprint brings you the most innovative services available.
This year's focus for Gilmer is Wordsprint's transformation from print services provider to marketing services provider – a transformation that will allow us to offer a more comprehensive solution to our customers' communication needs. By studying the way communication is changing in our society and how print will stay in the mix, Wordsprint will be able to help you communicate in new and creative ways. By staying on top of industry trends, focusing on making intelligent buying decisions, and learning about "green" printing techniques using eco-friendly products, Wordsprint will be here to serve you for generations to come.
Print '09 provides access to over 650 of the industry's leading manufacturers and software developers in over 550,000 sq. ft. of exhibit space. The show features seminars by industry leaders and live demonstrations by companies like Apple, Adobe, Kodak, Heidelberg, and Xerox. It's these live demonstrations that help printers make the most informed purchasing decisions possible. The educational seminars provide real take-home value for attendees, as they feature market forecasts and practical information on key technologies and essential business strategies for success.
For more information on Print '09, visit www.print09.com.